SMILE
REVIEW
Ni som missade dokumentären om hur Michael Jackson skapade
BAD
så kan ni se den på
SVT Play
. (Endast 6 dagar till)
Den visade verkligen hans beslutsamhet i att göra det absolut bästa han kunde, allt han kunde ge ville han ge och han var inte nöjd förrän han hade det. Men att det inte heller var helt utplanerat hur allt skulle vara, att han lärde sig den utarbetade koreografin så bra att han kunde använda sig av känslan och göra något nytt på plats, visar ju en hel del – teamet var inte förberedda på mycket av det han gjorde. Till exempel när han knäpper med fingrarna i videon innan The way you make me feel börjar spelas som vi älskar var en engångsgrej. Och det var roligt att få höra var han fick inspiration ifrån för olika saker. 
Och jag är glad att denna dokumentär endast handlar om han som artist, eftersom precis som regissören Spike Lee har sagt; "I think for too many years we've concentrated on stuff that has nothing to do with Michael Jackson. So this is the time to concentrate on the music, the genius of Michael Jackson." Jag menar, mycket av det folk förknippar honom med är lögner och det gör mig ilsken men mest ledsen. Han har lidit pga detta! Vad kan vi annat göra än att försöka sprida lite ljus i det falska mörkret? Han förtjänar att bli ihågkommen för den han var, och inte som andra hemska, hemska människor målat honom som.
I alla fall. Några av de bästa sakerna var Kanye West sjungandes "Annie are you okay?", minttabletten, osv. :)
PÅMINNELSE!
8 GRAMMYS IN 2 HOURS
VET NI LÅTEN?
 Looking out across the nighttime
The city winks a sleepless eye
Hear her voice, shake my window
Sweet seducing sighs
Get me out, into the nighttime
Four walls won't hold me tonight
If this town is just an apple, then let me take a bite
Rätt svar till förra; "Heal the world". Grattis till min syster, Erik, 
Tessan
 och 
Felicia Bhuiyan
! Kan ni denna då? :)
SUPER SOAKER!
GOD JUL!
Hoppas ni har en fin jul allihopa!
DAGENS BILD
THE ALBUMS
VET NI LÅTEN?
There's a place in your heart, and I know that it is love
And this place could be much brighter than tomorrow
And if you really try, you'll find there's no need to cry
In this place you'll feel there's not hurt or sorrow
There are ways to get there
If you care enough for the living
Make a little space, for a better place...
SKOLSKJUTNINGEN 1989
Ni har säkert hört om skolskjutningen på en skola i Newtown, USA? Det finns inga ord som kan beskriva det.. Jag hittade iaf denna text på Tumblr:
We know that Michael would have been deeply saddened by today's sad Events and we look back on his reaction to a similar tragedy in 1989. Michael Jackson showed support in 1989 to My Town of Stockton, California.
Michael Jackson was there for us when it mattered most. He didn't have to, but that was the side of him that many people did not know. On a day when the City of Stockton was down for the count, Michael Jackson showed up out of the blue and resuscitated us back into existence.After a madman with a rifle killed and injured dozens of schoolchildren at Cleveland Elementary in Stockton, California, nobody would expect the world's biggest musical superstar to take notice and make the effort to show up in person in January of 1989.
Patrick Purdy may have destroyed many lives that day, but Michael Jackson's presence helped bring more attention and compassion to the victims than anybody else on planet Earth could have done in a hundred years.
I certainly remember the panic in the air around Stockton, the calamity and desperation of parents stopping everything they were doing and racing to get their kids out of school immediately. I clearly recall hoping desperately that the police got there fast and ended it in a hurry. The incident in Stockton led to a quick assault rifle ban in California and was the beginning of national campaigns and activism against these types of deadly guns, according to an analysis by Reuters. Michael Jackson played a major role by his presence there that day.
Michael Jackson, coolest pop singer on the planet, showed up in Stockton with "truckloads of gifts to the children" and helped comfort survivors of the attack, according to Diane Batres who worked for the district attorney's victim witness department.
The Record newspaper of Stockton has reported that Michael Jackson went far beyond the call of duty when he visited the classrooms of Cleveland Elementary School and met with the injured survivors of the shooting.
20 yrs after the incident Darren had this footnote: ~ My most powerful and long-lasting memory of Michael Jackson was after that school shooting in my hometown when he showed up and brought doses of mesmerizing happiness and cool comfort that nobody else in the world could bring. At the height of his fame, he reached out to a community that needed help in the worst way.
Diane Batres wasn't happy back in 1989 when she took a call from someone at MJJ Productions. "I thought it was someone wanting to make a movie. I was furious," said Batres. The Cleveland School shootings had happened a couple weeks before and Batres was in charge of the District Attorney's Victim Witness department. Then she learned MJJ was Michael Jackson, offering a Stockton visit to comfort survivors of the school attack.
"It was very kind of him to do this. He brought truckloads of gifts to the children and held children in his arms. He was genuinely concerned and expressed his sorrow," said Batres. Jackson gave videotapes of his recent recordings to the children. One of the songs was 'Man in the Mirror.'
Batres heard later from a grateful parent how much that meant. "One of the mothers called after the experience and said, 'I'm so glad I saw that' because she realized for the first time there were yellow tears, white tears, brown tears and black tears. Every tear was the same color. They all felt the same sadness," said Batres.
Michael visited every classroom at Cleveland that day, stopped by Central Methodist Church to meet wounded children not yet ready to return to school and sat with two more children still recovering at San Joaquin General Hospital. Jackson gave all the children videotapes and T-shirts. "His presence made me feel like, 'Oh, wow, the world is safe, and it is possible to dream, and there is hope after all,' " said Elizabeth Pha, 27, who as an adult is pursuing her own career as a singing star.
In a recent interview with former Record reporter Dianne Barth, Cleveland Principal Pat Busher said, "(Jackson's) motivations were heartfelt. … It was to help children. And that event did a lot of good for the children."
WHO'S BAD?
DAGENS BILD
MOVE THAT BODY
BAD - SÅ KOM DEN TILL
Michael Jacksons "Bad" – så kom den till
, musikdokumentär från 2012 av Spike Lee.
Vi följer tillkomsten av Michael Jacksons album "Bad" (1987), med låtar som "Man in the Mirror", "I Can't Stop Loving You" – och titelspåret "Bad" förstås. Regissören Spike Lee bekänner att han ville bli som Michael när han växte upp i Brooklyn. Så det är en kärleksförklaring till en genialisk och noggrann artist, men också en film om skapandets vånda. För hur följer man upp ett album som "Thriller"? Dokumentären hade premiär vid filmfestivalen i Venedig.
Bad 25 dokumentären kommer visas i Sverige den
29 december klockan 22.30
på
SVT2
!
Kolla här!
 Har väntat på att få se den jättelänge! Peppad!
IN HIS PJS SIGNING PICS
AT GRAUMAN'S CHINESE THEATRE
Ni kan se när MJ fick hans förevigt bevarade plats på Grauman's Chinese Theatre 
här
.
THE BIG SURPRISE
STRONGER
The pain of life touches me, but the joy of life is so much stronger.
IS YOURSELF
GO FOR YOUR DREAMS
Please go for your dreams. Whatever your ideals are, you can
become whatever you want to become.
COME TOGETHER
"Come together" är egentligen en sång av The Beatles, skriven av John Lennon, men Michael Jackson köpte rätten till Beatles katalog. Paul McCartney och Michael har gjort låtarna "Say say say" och "The girl is mine" tillsammans tidigare och hade blivit goda vänner, och McCartney förklarade att han tänkt sälja katalogen. Michael var intresserad och frågade om det var okej att han gjorde ett bud, och det var det. Dock ångrade Paul sig sen efter att Michael gått med i budgivandet, och eftersom Paul inte ville bjuda över eftersom han tyckte priset låg för högt förlorade han. Paul kände sig förrådd och var arg. Fast jag tror det har dragit över? Det är inte lätt att blanda vänskap och affärer. Men Michael tyckte väl att affärer bara är affärer, och att det inte borde ha något att göra med deras vänskap.
Så han har köpt rätten till väldigt många Beatles-låtar, eftersom han älskar bandet. "Come together" är den enda covern som han har släppt av Beatles. Denna video visas i slutet av hans film Moonwalker.
DAGENS BILD
AUGUST XXIX
XXIX = 29. Datumet då Michael föddes.
I JAPANSK TV
LIKA
Så lika! Samma leende och ögon (formen). Och Blanket då! Typ en EXAKT kopia av Michael när han var liten. Och jag har sett nån bild på Prince där jag bara "Wow" eftersom han var SÅ lik sin pappa. 
25 JUNI 2012
BOB MARLEY OCH MJ
Alltså det faktum att MJ och Bob Marley har träffats är för ballt. Ni ser också Katherine Jackson tillsammans med Bob här ovan. Bob Marley ville att Jackson 5 skulle öppna en av Bob Marley & The Wailers's konsert i National Heros Stadium 1975. Och dessa foton är tagna vid Bobs hus i Jamaica, 56 Hope St. Kingston, före konserten.
UTDRAG UR JERMAINES BOK
One day, Michael decided he wanted a llama. He asked me to take him to nearby Agora and we ended up at this lot packed with hay and horse trailers. From the car, we eyed four llamas out back. I parked between two trailers, unintentionally shielding my Mercedes from view. It was the only parking spot available. When we walked into the office – two kids dressed casual but smart in T-shirt and jeans – this guy, bent across a counter doing some paperwork, didn't even look up when he said, "We're not hiring."
  "We ain't looking for no job," said Michael, wearing his shades. "We're here to buy a llama."
 The man looked up. Not a flicker of recognition on his face. It took me about two seconds to know that his musical taste ventured nowhere near the Thriller album. "We don't have any llamas," he said. The look on his face said it all: you can't afford it.
  "You have four of them out back," I said, trying to keep calm.
  "You know how much they cost?"
  Michael smiled. "We know how much they cost."
Then came an incredible bombardment of questions, fired by the man's prejudices and assumptions. "Can you afford a llama? What do you boys do to afford a llama? Where will you keep it? Have you ever thought about this?"
  Ever patient, Michael explained that we had a house with grounds and were serious customers. "I know how to look after all kinds of animals," he added.
  The man begrudgingly asked to see some ID. Michael handed over a bank card. I handed over my driving license. And then night became day.
"You're those Jackson boys?" said the man, his face lighting up. He began to back-pedal about how he had to be careful and he couldn't sell to just anyone; you understand how it is. But we didn't understand: we saw right through him.
  "So you're happy to accept me because now you know who I am?" Michael asked. The biggest misconception people had about my brother was that his legendary shyness made him timid, but he was a man of principle, especially where his roots as a proud black man were concerned and he wasn't afraid to speak up on this when riled.
  Michael took back his ID and came right out with it: "You are an ass, and we don't want to spend our money in here anymore."
  Then we walked out to the Mercedes the man had failed to spot when we arrived.
~ Jermaine Jackson, "You are not alone"
DAVID NORDAHL
Sitting and talking to Michael I would look into his eyes and I could see for 1.000 miles. He had these most incredible eyes. They come off good on film, but nothing like in person. When you're actually sitting across there looking at him, those eyes were unbelievable. There were times it would just stop me in my tracks and there were times I'd be around him where I'd kind of forget who he was and then it would dawn on me... "I'm sitting here next to Michael Jackson." I never really got over that. There were times he would do these quick little step things and they were like lightening. It was just so quick, so precise and just amazing.
~ David Nordahl
LOOSE CHANGE
Jag vill tipsa om den här dokumentären igen.
Loose Change
. Ni kan se den med svensk text på Internet om ni klicka
HÄR
. Allvarligt talat, se den,
och sen tipsa den vidare på er blogg eller nått
. Det är den amerikanska regeringen som ligger bakom 9/11-attacken, inte terrorister, och denna dokumentär bevisar det. 
PARIS PÅ ELLEN OCH OPRAH
Jag har inte publicerat dessa tidigare, så gör det nu. Paris har varit på Ellen och Oprah de senaste 12 månaderna och talat om sin kommande film och om MJ. 
Många är rätt arga över att de är i rampljuset, eftersom de inte tror att Michael hade gillat det. Och om Michael hade varit här så tror jag att han fortfarande hade beskyddat dem med masker, osv. Men samtidigt är det ju klart att de också vill vara med och hedra honom.
DARINS MJ-TEST
FAMILJEVIDEOR
TWITTER
BAD MEGAMIX
Detta är en megamix med alla låtar från albumet Bad.
A PART OF ME
My fans truly are a part of me. We share something that most people will never experience.
NEJ
Lady Gaga har köpt FEMTIOFEM saker som Michael har ägt, bland annat en av hans diamanthandskar och den svarta jackan som han hade på Bad Tour! Vad tycker ni om det? Jag gillar det inte. Eller jag gillar inte att hans saker säljs på auktion överhuvudtaget! Seriöst. Om Gaga köpte femtiofem saker, tänk hur mycket det måste ha varit de då auktionerade ut. Varför gör de detta? Inte kan det väl vara Michaels familj som gör detta? Jag kan i alla fall inte tro att Michaels barn skulle vilja det i så fall. 
Det sägs ju att de kommer någon gång i framtiden kanske öppna Neverland dit man kan fara och titta och åka karusell osv, jag skulle vilja att de i så fall skapde ett museum eller liknande med hans saker där. Inte att hans saker sprids med vinden. Nä. Detta gillar jag inte alls. :(
SKRATT
Naw, ett av de bästa ljuden i världen, MJs skratt. Brooke Shields sa på minnesceremonin; "Michael loved to laugh. His heart would just burst out of him when he was laughing. MJs laugh was the sweetest and purest of anyone I had ever known."
BIG
Okej, jag har hittat typ den största bilden på MJ på Internet. Klicka
HÄR
för att se full storlek och ni kanske måste klicka på bilden för att göra den större. Slå den om ni kan. ;)
RANDY PHILLIPS
When we did the press conference in London, it was the biggest press conference to announce a live entertainment project I've ever seen. He was so nervous, and like really concerned as to what he was embarking on and how people would react to him after so many years. And as he heard the roar of the crowd and started walking up the steps of the stage, he became "Michael Jackson" again when he walked and took that microphone in his hand. They were telling him that they still loved him. And I think that was really really important to him. It underscored the point that he was just a human being.
~ Randy Phillips
DAGENS BILD
ONE OF A KIND
BRUNO MARS
Va?! Är det här Bruno Mars?
THE SUPER-BAD WORD PUZZLE!
Haha, kul. Detta är en sida från fjärde utgåvan av tidningen The world of Michael Jackson, som var en fanklubbstidning.
RODNEY JERKINS 4 DECEMBER 2012
FRAMFÖR MAN IN THE MIRROR <3
MAN IN THE MIRROR
Älskar detta uppträdande. Mina favorit delar är helt klart i början när han vill att publiken ska säga efter honom (tänk att vara där!!!) och från och med 4:08 då han börjar sjunga live (måste spara på rösten).
Varför han säger "Thank you your royal highness" är för att Prinsessan Diana var och såg konserten! 
I'M A HUMAN BEING
Sometimes people forget that I'm a human being.
DAGENS BILD
Gissa var Michael är? Haha
REPETITION AV BILLIE JEAN
En repetition av "Billie Jean"! Här fokuserar han mer på sången än att dansa.
SANTA CLAUS IS COMING TO TOWN
Decembermånad! Nu börjar vi ladda upp för julen, tycker jag! Hehe!
DECEMBER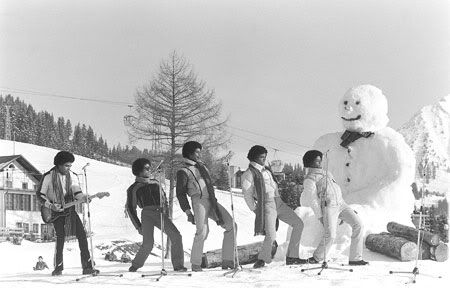 TWO KINDS OF MUSIC
There are two kinds of music.
One comes from the strings of a guitar,
the other from the strings of the heart.
BAD
Här uppträder MJ med "Bad" på sin Bad Tour 1988 på Wembley stadium!
THE PROBLEM IS...
Too many people knew the legend
and not the man.
(från Tumblr)
DAGENS BILD